Not so long ago, hikers had only paper and natural instincts to rely on when spending time outdoors. Luckily, we're now well into the 21st century and we have technology at our fingertips to help us out.
If you've been in search for some new apps for camping or hiking, I've got a couple suggestions for you. I tested out over 2 dozen apps to see which ones are actually worthwhile. Whether you're an expert hiker, an apprehensive camper, a curious explorer or anything in between, these suggestions should be able to help you out.
Here are the 14 best apps for campers and hikers:
1. AllTrails
Available on: iOS and Android.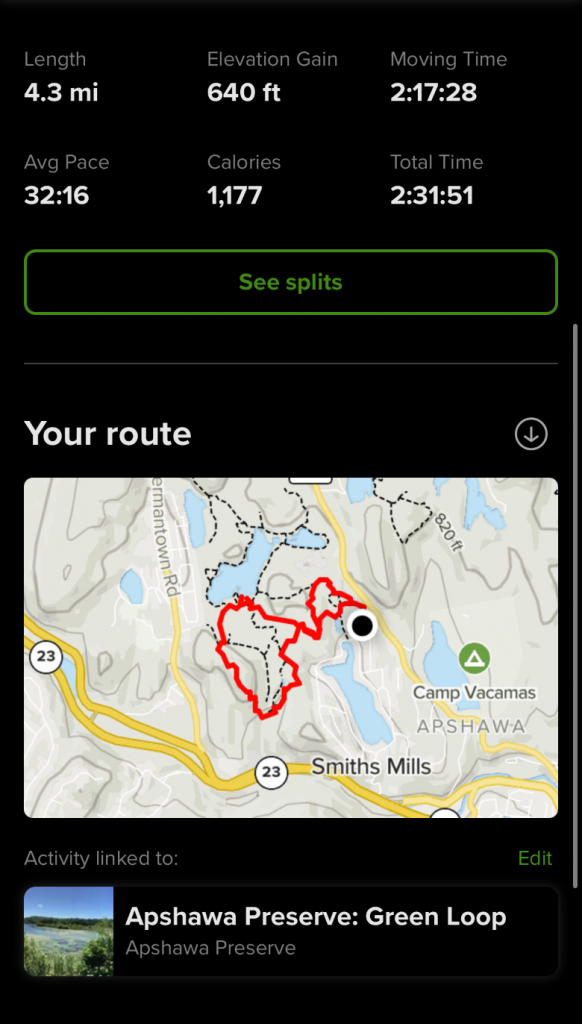 Perhaps no other app has had as big of an influence on the hiking community as AllTrails. This is the most widely used trail navigation app out there, and for good reason. I've been using it for years and I've always been satisfied.
With over 100,000 trails in its database, AllTrails allows users to find new hikes, track where they're going and record their progress along the way. It logs all kinds of data like elevation gain, distance, pace, angle of ascent/descent, calories burned and much more.
There are over 20 million users of AllTrails around the world and it sets quite a high bar for hiking apps.
What Makes It Great?
AllTrails is fantastic for hikers of all levels because of its attention to detail. Whatever you're looking for in a hike, AllTrails will let you filter for it. You can choose hikes based on distance, elevation gain, views or even wildlife. I've found countless hidden gems thanks to this app. Since AllTrails has such a huge community, you also get to see trail reviews and photos from fellow hikers.
AllTrails has both a free version and a paid subscription. Either way, the app's GPS tracking abilities are pretty straightforward. You have the option of road, topographic and satellite maps to help you along your hike. Once you've recorded a hike with AllTrails, a full overview will remain in your history forever. This makes it easy to track your progress as a hiker over time.
Where Can It Improve?
When you compare it to some of the more advanced apps on this list, AllTrails' topographic maps aren't quite up to par. Also, you can download maps for offline use… But you need a paid subscription to do so. This is a bit of a bummer, but I've been able to deal with the unpaid version for many years now.
2. Cairn
Available on: iOS and Android.
The Cairn App is definitely the best out there when it comes to keeping hikers safe on the trail. To boil it down, Cairn shares your location and hiking stats with your family/friends in real time. This way, everyone knows where you are and where you're supposed to be. If there's ever an emergency situation, it'll be easy for others to know that you need help.
What Makes It Great?
Cairn is incredible because it takes every aspect of safety into account. Once you download the app (you can try it for 30 days for free), you need to create your "Safety Circle." This is essentially your list of emergency contacts. When it's time to hike, you can plan out the date, departure time and time that you expect to return. If you're not back from your adventure on cue, your safety circle will be alerted. Your circle will also be able to see your location during your hike. All of this is included with the app's paid premium subscription.
One of the coolest features of this app is its ability to map out the areas where there's no cell service along the trail. This can be a life saver, especially in remote locations. You can also download maps offline, get driving directions and record your personal stats. Cairn has put in the work to make their app more battery-efficient as well.
If you're hesitant about purchasing a premium Cairn subscription, they offer a 30-day free trail. If premium isn't for you, then you can opt for the free version of the app which comes with the cell coverage map, trail recordings and more.
Where Can It Improve?
I would love to see Cairn include trail elevation profiles like some of the other apps on this list. Also, Cairn doesn't currently have an iOS watch app- Sorry to my fellow Apple Watch users!
3. The Dyrt
Available on: iOS and Android.
This is one for all my camp enthusiasts out there. The Dyrt is kind of like Yelp, only for campgrounds! The app will show you all of the registered campsites in the area you're searching for. You'll be able to find details for each location, plan trips and eliminate stress from your next camping trip.
What Makes It Great?
The Dyrt does its best to help you plan out the most efficient camping trip possible. Everything on this app is based on reviews. The campsite ratings are gathered from users' opinions. For each campground, you'll find contact information, the site's specific features, prices, user photos and lots of other details.
Unlike apps like Cairn, The Dyrt has both a free and paid "PRO" version. With The Dyrt PRO, you get offline access to the app's database. You'll also get discounts on camping gear, downloadable maps and access to their "trip planner." This is a great tool for road trips- it'll plan out your route while giving you gas prices and suggesting campsites.
Where Can It Improve?
Since the app is crowd sourced, there are some unfrequented campsites out there that don't have any information posted.
4. iNaturalist
Available on: iOS and Android.
The iNautralist app is a true showcase of just how convenient technology can be while hiking. It's essentially a virtual, nature-based encyclopedia.
With this app, you can take a photo of any plant, animal, bug or other type of organism and have it identified within minutes. It's one of the best apps out there for outdoor explorers, children or anyone who's looking to learn a bit about nature.
What Makes It Great?
Well, for starters, this app is completely free! There's no pro version, so everyone has access to all of iNaturalist's features. The app is also super user-friendly. To identify an organism, you simply click "observe" and upload photos of the creature you've discovered. Once your specimen has been identified, you can share it with other users to spread the knowledge.
The app functions with 3 levels of identification: casual grade, needs ID and research grade (in order from least to most accurate). You can help other users identify creatures as well by suggesting an ID. You can also create your own custom guides or "projects" if you're looking to do some research-aimed work.
Where Can It Improve?
Unfortunately, iNaturalist can be a bit picky when it comes to your photography skills. Since the app relies mostly on photo identification technology, your pictures usually need to be spot on in order to get an accurate ID. Blurry, unfocused or distant photos just won't make the cut.
5. National Park Service (NPS) App
Available on: iOS and Android.
The U.S. National Parks are some of the most beautiful places on the Earth. The NPS App will give you a way to explore any of these parks to their fullest potential. It eliminates the need for an in-person guide and will help you to create your own tour.
What Makes It So Great?
Although there are several National Park guide-type apps out there, I've found this one to be the best. The NPS app allows you to log each park that you've visited and even collect stamps as a part of your "Passport to National Parks."
You can search for parks by name, location or activity. Each location has a profile with photos and lots of details including fees, activities, calendars, volunteer opportunities and more. Interactive maps make it easier to explore the parks, and you can also create postcards to share with others.
Perhaps the best part of the app: it's all free with no subscriptions!
Where Can It Improve?
Unfortunately, the information on the NPS app isn't always completely up to date. You may need to double check with other sources when it comes to closing times and park fees.
Also, the maps aren't as detailed or interactive as some of the more advanced apps on this list. A trail recording feature could really go a long way here… I supposed you can just use an app like AllTrails for that, though.
6. Guthook Guides
Available on: iOS and Android.
If you're looking to do some thru-hiking, this is probably the app for you. Guthook Guides advertises itself as the "#1 app for long distance hikers." This is no surprise, considering that it was developed by 2 former thru-hikers. It does a great job at making long hikes feel shorter by breaking them up into waypoints.
The platform is complete with dozens of guides and over 35,000 miles worth of trails.
What Makes It Great?
Each trail guide on Guthook includes GPS tracking, detailed waypoints, elevation profiles and more. This means that nothing on your hike will be a surprise to you. You can find water sources, viewpoints, parking locations and pretty much anything else you need to know about a trail.
The app also features a "social check in" feature which allows you to follow people and have your location tracked (sort of like Cairn). While you're hiking, you can "check in" with your followers by marking your location and typing a message. The best part is, whether your phone is off, dead or in airplane mode, Guthook Guides will continue to function.
Guthook Guides also lets you read user comments, in case any information needs to be updated.
Where Can It Improve?
The greatest downfall to Guthook Guides is the prices. While the app and membership is free, you need to pay for each individual guide. Prices range from $3.99 to $59.99 (that might be steeper than the mountains you'll be climbing).
7. Spyglass
Available on: iOS and Android.
Probably the most "outside the box" app on this list, Spyglass fuses the power of navigational tools with augmented reality. It's got tons of virtual devices including compasses, offline maps, binoculars, calculators and much more.
What Makes It Great?
For starters, the platform is gorgeous to look at and flawlessly designed. Spyglass uses your phone's camera to implement augmented reality into your surroundings. Some of its virtual tools include a speedometer, altimeter, sun/star/moon tracker and GPS.
The app is great for navigation as well. You can save waypoints and then find them later with the help of Spyglass' directional arrows. As an added plus, Spyglass works great when offline.
Where Can It Improve?
This is one of the only apps on this list that isn't free to download.
Also, if you're a new hiker or a beginner to the world of navigation, you may not find many of these tools useful. I'd recommend saving the few dollars on this one unless you truly know what you're doing.
8. Sky Guide
Available on: iOS.
For anyone who enjoys star gazing, Sky Guide is a super useful app. It's pretty much exactly what its title claims to be: a guide of the night sky. The app uses augmented reality to point out all the highlights of space, whether it's cloudy, rainy or day time. It's like holding an observatory in the palm of your hands.
What Makes It Great?
Sky Guide helps eliminate mystery from the starry night sky.
The app is pretty simple. When using the augmented reality view, every constellation, celestial body or noteworthy space object is labeled and outlined for you. If you're having trouble finding something, you can head over to the search tab where everything is broken down into organized lists. You can search for satellites, stars, planets or anything else that interests you.
As an added bonus, the app has this gorgeous, ethereal music that constantly plays in the background. It's super soothing.
Where Can It Improve?
It's hard to find any qualms with the Sky Guide app itself. However, it's unfortunately not yet available for Android. Sorry- but this one's for Apple users only!
9. Ramblr
Available on: iOS and Android.
If you're a socialite, an online personality or just someone who feels the need to share their hiking experiences, Ramblr might be a great app for you. It's essentially a hiking app meets social media platform.
What Makes It Great?
The Ramblr app adds a visual aspect to your hiking history by providing notes, labeled waypoints and geotagged photos for other users to see. This is what sets it apart from some of the other trail-recording apps on this list. After completing a hike, you have the option of sharing it to Facebook, Twitter and Pinterest. You can also imprint the routes that you've completed onto downloadable maps.
Similar to apps like Cairn, Ramblr incorporates safety features that allow you to share your location with others. However, this is only available with a paid subscription.
Where Can It Improve?
I find the app to be somewhat poorly designed. It can be a bit difficult to get the gist of and the layout is (for lack of better term) just ugly. I'd love to see an update of Ramblr with a completely new design.
10. First Aid: American Red Cross
When it comes to staying prepared for medical emergencies on the trail, the First Aid: American Red Cross App is an essential. It's a full-on guide to medical treatment and all things first aid. It will give you all the basics for the most common injuries, illnesses and emergencies.
What Makes It Great?
Dealing with injuries on the trail can be stressful, and the Red Cross First Aid app understands that. The interface is super self-explanatory, with options for English and Spanish. All ailments are laid out simply on the app, in categories such as "bleeding," "choking," "heart attack," "burns," and others. Once you click on an ailment, you'll find a step-by-step guide on how to best treat it as well as a FAQ section.
First Aid: American Red Cross has lots of other guides for things like fires, flooding, chemical emergencies and more serious situations. The app has an interactive first aid checklist too, which will help you when preparing your own kit.
If you're feeling like a medical whiz and want to test out your knowledge, the app also includes quizzes.
Where Can It Improve?
I think the app could certainly benefit from having a search bar. This might make it easier to find specific categories during emergencies. Other than that, it gets an A+ from me!
Obvious side note: this app is not intended to replace an actual first aid kit. You should never go camping or hiking without a full and thorough first aid kit.
11. Walk The Distance
Available on: iOS and Android.
For those of you who want to put your daily step count into perspective, Walk The Distance is a must-have. It works with your iPhone's health app to relate your walking distance to popular trails, marathons and cities around the world. No matter where you are in the world, you'll be able to virtually complete some of the most challenging trails out there.
What Makes It Great?
Walk The Distance provides a great opportunity to add a little bit of fun to your mundane daily walks. Not only do you get to complete virtual challenges, but there's also a social aspect to the app. You can compete with other users and even request friends. Throughout your journey, you can also unlock checkpoints and learn about new trails.
If you're planning on completing one of these trails or marathons in real life, Walk The Distance is a great way to test it out. You can benchmark yourself physically and see how you might perform in person. Once you "activate" a trail, the app will begin relating your steps to that route without draining your phone's battery. You'll then be able to check in throughout the day to see how far you've gone.
Where Can It Improve?
Not all of the trails within the app are free- although, they're quite cheap to purchase.
12. Hipcamp: Camping, RVs & Cabins
Available on: iOS and Android.
There is no shame in wanting a little bit of extra comfortability while camping. If you're more of a "glamper," then you should download the Hipcamp app. It's a platform where you can rent out luxury camping locations and accommodations from hosts.
What Makes It Great?
Hipcamp is super simple to use, and its interface sort of reminds me of Airbnb. The aesthetically pleasing design and user-friendliness are some of my favorite things about this app. You can search for RV's, tent sites or glamping options based on location, dates and other filters.
When you click on a rental, you'll get access to tons of information about the host and the location. You can see reviews, host policies, offers, nearby activities and other surprisingly specific details about each stay.
Once you find a location or host that you like, you can book it or save it for later. If you're looking to make a few bucks, you can also apply to be a host- that is if you've got a place to rent out.
Where Can It Improve?
Since the app works with hosts and renters, you're going to have to trust that they're reliable. It's up to them to respond to messages, charge fair rates and accommodate your needs. Chances are, you're bound to run into a shotty host or two.
13. PeakFinder
Available on: iOS and Android.
You ever look off into the distance while hiking and wonder what mountains were lining the horizon? The PeakFinder app will allow you to identify and learn about each mysterious peak that you encounter. It can really come in handy for curious explorers, aspiring geologists or hikers who've lost their way.
What Makes It Great?
PeakFinder is somewhat similar to the Sky Guide app. It implements augmented reality to give you an outline of the mountains in your area. There are over 850,000 different peaks within the app's database, so it's unlikely you'll find a mountain that it can't identify.
Within the app, you'll find different viewing options such as bird's eye view, camera overlay, a digital telescope view and more. The app also works offline, which makes it great for exploring in remote areas.
Where Can It Improve?
I found this app to be a bit difficult to figure out. Plus, you do have to pay for this one. However, it's pretty inexpensive and there are no additional costs once you buy the app.
14. Think Dirty
Available on: iOS and Android.
If you want to take your love for nature to the next level, the Think Dirty app will help you to purchase products that are eco-friendly! Is your toothpaste full of toxic ingredients? Does the shampoo you use have a negative effect on the environment? This app will answer those questions for you so that you can get a jumpstart on living a more sustainable lifestyle.
What Makes It Great?
The Think Dirty app has nearly 2 million products in its database. You can search based on category, keyword or by scanning a barcode. For every product, you'll find extreme detail about all of the ingredients and how they impact your health. You'll also find a "Dirty Meter" rating and lots of customer reviews.
When you decide you want to buy a product, just click the "Shop" button and you'll be transferred over to the merchant's site. If you're not ready to buy yet, you also have the option of sorting products into lists.
Where Can It Improve?
Unfortunately, some of the app's detailed health information is hidden behind a paywall. While the subscription is pretty cheap, it would be nice to have access to everything for free. The app could also benefit from a few extra search filters.
What Are Hiking/Camping Apps Used For?
To answer this question quickly and simply: everything and anything.
At the end of the day, the point of a good hiking/camping app is to make your time outdoors less stressful- whatever that means to you. Some apps can help you find the best places to camp or hike. Some will record your health stats. Some will help you identify local wildlife while others will teach you about the night sky.
What types of services are you looking for in a hiking/camping app?
What Are The Most Important Things To Look For In A Hiking App?
No one has enough storage space in their phone to download every app on the market. Some apps cost money to download, and others make you pay for a monthly subscription. This is why it's important to know which are worth making room for and which you should pass on.
Here are some of the main things you should prioritize when searching for new camping/hiking apps.
Offline Capabilities Are Key
When you're out in nature, there's no guarantee that you'll have cell service. For this reason, the best apps for camping and hiking come with offline capabilities. This means that, even if you have no signal or if your phone is in airplane mode, the app is still functional.
Record Your Stats
The ability to record stats is one of my favorite things about hiking. There are lots of apps out there that can keep track of your pace, distance, elevation gain, heart rate, calories burned and lots of other things during your hike. This can help to keep you motivated and track your progress. If you're a beginner hiker, I recommend downloading an app that does this so that you can watch your growth over time.
Does It Offer Local Info?
Whenever you're exploring nature in a new area, it's important to look for local information. This will help you to know if there's a trail obstruction, inoperable campsite, unusual hazard or anything else of the sort. Some apps work with local park rangers or news organizations to keep you updated.
It's All About Community
Community interaction is always a great plus when it comes to camping/hiking apps. When you read reviews from other users, you often get a more honest and relatable view of things. Apps like AllTrails and The Dyrt have massive communities to help make your experience easier.
With that being said, you should always take user reviews with a grain of salt. What is true for one hiker/camper may not be true for everyone.
Will It Eat Up Your Battery?
Your phone is your lifeline when out in the woods. You need to make sure that your apps aren't draining that precious battery life during your hike. Many of the apps I've listed above run silently in the background without consuming much power.
Does It Add Value?
At the end of the day, the most important aspect to consider before downloading an app is- will it add value to your next camping or hiking trip? Everyone has different needs and desires when it comes to spending time outdoors. Look for apps that meet those needs.
Ask yourself the question: does this app provide a service that I wouldn't be able to get elsewhere? If the answer is yes, then I'd say it's worth downloading.