SPOILER ALERT: Conquerwild named Silverlight Hiking Socks as the Best Socks For Sweaty Feet!!
There are very few things in this world (in my opinion at least) that feel worse than a pair of wet socks on your feet. It's gross. It's uncomfortable. It looks bad. In some cases- it smells bad too.
When hiking or camping, your feet are bound to get sweaty. If you're wearing an inefficient pair of socks, this sweat will stick around long past its welcome. There are lots of socks out there that are designed to keep your feet feeling comfortable and clean, even after you've been sweating buckets.
I've done the research so that you don't have to, and reviewed the best products out there. I now present to you, the top 5 best socks for sweaty feet:
The Products I'll Be Reviewing
Made of: 56% Merino wool, 28% recycled nylon, 13% nylon and 3% elastane.
The best type of sock is one that you can wear during a workout or while lounging around the house. These Smartwool Crew Socks fit perfectly into that category. They're strategically designed with "durability zones" in areas where your feet are likely to put the most pressure. They can take a beating… And a lot of sweat, thanks to their moisture wicking abilities.
The Smartwool brand has made an effort to be a bit more eco friendly with this product, using 28% recycled nylon. The combination of this recycled material, elastane and Merino wool makes for a highly adaptable pair of socks. They're thick enough to withstand impact, but they also have breathable mesh zones, which makes them great socks for hiking. I'd highly recommend this pair.
Pros
Partially made from recycled nylon.
Merino wool is ZQ certified, meeting animal welfare standards.
Come in charcoal or medium gray.
They stay in place.
8 inch ankle.
Seamless toes.
Breathable and moisture wicking.
Cons
Made of: 59% Merino wool, 39% nylon and 2% Lycra spandex.
For women who are looking for moisture wicking, durable socks, Darn Tough has got you covered here. This company puts good use to their name by creating socks that are strong and heavily cushioned. They have impact resistance in the right places to help avoid blisters (in the heel and the toe). Add this to the moisture wicking fabric (Merino wool, nylon and spandex) and you've got an efficient pair of socks to keep your feet dry.
The main focus with this pair seems to be the cushioning, which is pretty dense on the bottom of the foot. At the same time, the crew-length legs (which come up 6 inches) are un-cushioned and thin to help you stay cool. These socks can help keep even the sweatiest feet stay dry.
Pros
Breathable and durable.
Wide-ribbed legs.
Shrink treated, custom counted Merino wool.
Merino wool meets the Responsible Wool Standard (RWS).
Toe seams are hidden for comfortability.
Comes in slate, oatmeal, aqua heather and plum heather colors.
Darn Tough makes men's socks as well.
Cons
They run a bit small.
Some customers say they were too hot.
Made of: 79% Merino wool, 20% nylon, 1% Lycra spandex.
Here, we have a great product from REI themselves with this pair of Expedition Hiking Crew Socks. They're strong, long lasting and made in the US with a combination of domestic and imported materials. More importantly: they wick moisture away from your feet and dry very quickly. Plus, they're super odor resistant, which I'm sure a lot of you can appreciate.
The gentle material is glorious on the feet while still giving sufficient support. The footbeds, toes, heels and achilles are completely reinforced to make each step comfortable. Plus, the light indigo color of these socks makes it easy to spot ticks when they're crawling on you. I also really appreciate the fact that the Merino wool meets the Responsible Wool Standard. Overall, these socks are pretty great and worthy of wearing during your next hike.
Pros
4 sizes including XL.
Heavily cushioned.
Merino wool meets RWS.
Odor resistant.
Lots of support.
Seamless toes.
Unisex.
Cons
Made of: 53% New Zealand Merino wool, 40% nylon, 5% silver yarn and 2% spandex.
Checking in from Australia, Silverlight is a small company that focuses on making hiking socks with quality and care. While they also make shorter, ankle socks, it's the crew version that performs best for hikers. Even if you don't plan on hiking, these socks mean business above the ankle. They mesh really well with formal attire.
Whether it's sweat, rain or snow you're up against, the Silverlight socks will keep your feet dry and comfortable for hours at a time. New Zealand Merino wool makes up the moisture-wicking inner layer. It's ethically sourced, static-free and fast drying. This works wonders at preventing blisters, even when you're hiking for miles. The silver yarn on the inside also helps to prevent bacteria that can cause odor or infection on your feet.
They also have a comfy compression design that holds its form over time. As someone with massively high arches, this is something I can really appreciate. If you're looking for a super snug-fitting, flexible pair of moisture wicking socks, Silverlight is honestly an excellent choice.
Pros
5 sizes including XL and XXL.
Good for Plantar Fasciitis.
Fights bacteria – best socks for stinky feet.
Odor resistant.
Temperature regulating abilities.
Silverlight plants a tree for every purchase!
Cons
Only come in black.
They're a bit expensive.
Made of: 50% COOLMAX recycled polyester, 49% nylon and 1% spandex.
If you're someone who needs the absolute most sweat protection you can get, you may want to consider these sock liners from REI co-op. This pair is meant to be worn underneath a pair of heavier socks, so you can combine this with any of the products above. They're designed so that they fit snugly without moving or crumpling, even with the added friction of another pair of socks.
Keep in mind that these socks are super thin. You could use them by themselves, but they're not cut out for high impact activity. Either way, these are crafted for comfortability and affordability. Plus, they wouldn't be on this list if they weren't moisture wicking. Sock liners aren't everyone's cup of tea, but you'd be surprised how much these REI COOLMAX products could help your feet while hiking.
Pros
Polyester (yarn) is made from recycled water bottles!
Affordable.
Smooth, flat toe for comfortability.
Snug fit.
Lightweight.
Cons
Not much cushion.
Not good for cold temperatures.
Should be worn with another pair of socks.
How To Find The Best Socks Sweaty Feet
Whether you're hiking, camping or just lounging in your home, the socks that you're wearing can make or break your mood. At least that's the way I feel.
There are dozens of factors that can go wrong with socks, especially when you're on the trail. Ultimately, you should try your best to find yourself a pair that prevents odor, excessive sweat, blisters and infection.
So how do you know if a pair of socks has everything you need before you put them on? Look for the following credentials…
Materials Make The Sock
You can't make a good pair of socks without quality materials. That's rule number 1 in my book.
Material makes the difference between a dry, long-lasting sock and a drenched, smelly one.
There are tons of different fabrics out there to choose from, but I thought I'd highlight some of the best and worst ones.
Best Sock Material For Sweaty Feet: Merino Wool
When it comes to sock fabric, few materials work as effectively as Merino wool. This is a natural type of wool grown from Merino sheep. It works so well for socks because of its moisture wicking abilities.
The wool can retain up to 30% of its weight in moisture without feeling wet. It's also fast-drying, temperature regulating, comfy and contains antimicrobial properties.
Note: If you're buying a pair of Merino wool socks blindly, you should do a little research and make sure that the wool was obtained humanely. Look out for things like Responsible Wool Standard (RWS) or "ZQ certified."
Great Sock Material For Sweaty Feet: Coolmax
Coolmax is a manmade material that does a great job of combating sweaty feet. This fabric is an altered version of polyester. It's moisture wicking and shrink resistant. It's also super breathable. Coolmax is known for providing maximum airflow to prevent sweat accumulation.
Coolmax generally works best when combined with other materials in a sock, such as spandex, wool, etc.
Not So Great For Socks: Cotton
This may come as a surprise to you because cotton is probably the most widely used material for socks, but it does not do well with sweat.
Cotton is super absorbent, which can be a good thing. The issue is that once the moisture is absorbed, the fabric won't allow it to evaporate. This results in a heavy, damp sock. Gross.
It also retains heat and causes the buildup of bacteria. If you've noticed that your feet have been stinking lately, it may be because of your cotton socks.
Not So Great For Socks: Polyester, Nylon and Plastic
Although polyester and nylon are moisture wicking, none of these materials work well for socks on their own. This is because they lack breathability. The only exception is when they are combined with other materials, or when they've been scientifically altered (as is the case with Coolmax, which is altered polyester).
Find The Right Fit
Socks come in all shapes and sizes. It's vital that, when you buy a pair, you take your own foot's needs into consideration.
One of my biggest pet peeves when it comes to socks is a loose fit. I like my socks to mold perfectly to the shape of my foot without shifting positions. When you're hiking, a loose pair of socks might also mean that you get gravel and bits of dirt inside them.
Some people (like myself) have high arches in their feet. If this is the case for you, seek out a pair of socks that have extra support in the arch. If you have any kind of issues with your feet, you should look for socks that accommodate them.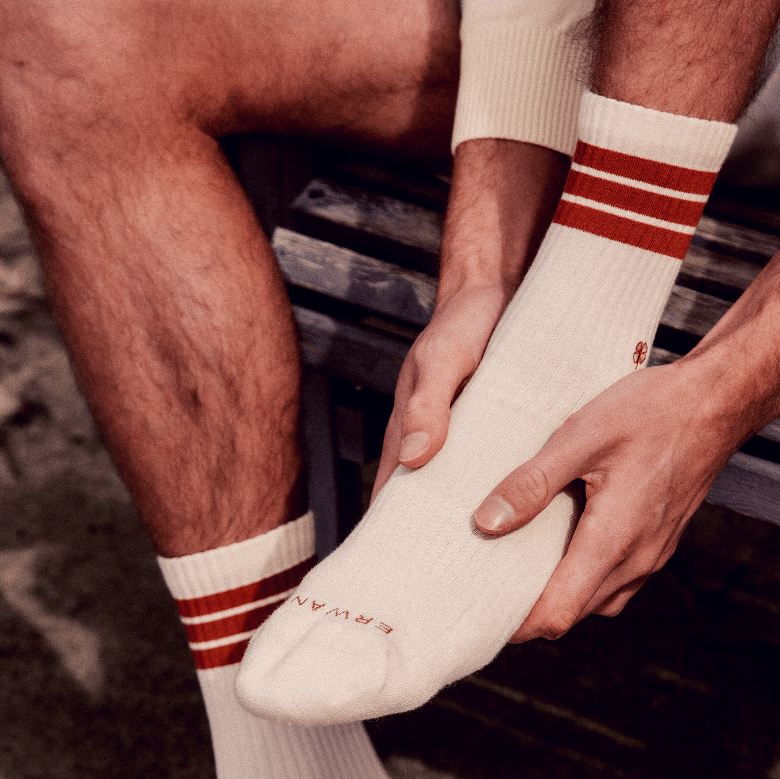 When it comes to the "ankle vs. crew socks" debate, I always choose crew when it comes to hiking. I find them to be more effective at preventing tick bites.
Also, make sure you always make the best estimate of your current shoe size before purchasing socks. If you choose a size that's too big or too small for you, you probably won't be satisfied with your purchase.
Breathability Is Important
If you don't want your feet to stink or sweat more than they need to, they need to breathe. Find yourself a pair of socks that have good airflow.
Your feet play a large role in regulating your body's temperature. Many socks have breathable mesh zones to allow some of that excess heat to escape. The more breathable your socks are, the less your sweat will accumulate.
Don't Forget About Durability
Your socks are constantly under the pressure of your body weight. This is why you need to find a pair that's durable. If you buy cheaply made socks, they'll wear themselves out in no time.
Look for socks with reinforced areas or "durability zones" (as they're called with the Smartwool Crew Socks). When you're walking, most of the pressure is focused on the heels and toes of your socks, so these areas need to be extra strong.
Also, it's always important to pay close attention to the care instructions on each pair of socks. Many products need to be washed in a specific way. If you don't follow these instructions, you might wind up decreasing the lifespan of your pair.
Finding The Best Socks For Smelly Feet: What Causes Odor?
If you have a history of smelly feet and you want to nip the problem in the bud, choosing the right pair of socks can really make a difference.
Many people assume that sweat causes your feet to smell. While that may be partially true, it's a bit more complicated than that.
Sweat itself doesn't actually have any odor. However, sweat does cause bacteria to build up on your feet. That bacteria is what causes the odor. This is why you want to avoid materials like cotton, which can trap bacteria and make the odor worse.
Some materials (such as Merino wool) have natural, antibacterial properties, which can help prevent odors all together. The Silverlight Hiking Socks contain silver yarn, which also helps to prevent bacteria. If you want socks that don't smell, these types of products are your best bet.
If you've noticed that your feet smell consistently regardless of what socks you wear, then be sure to wash them thoroughly every day. You can also soak them in warm water with antibacterial soap for about 15 minutes (and then dry them completely) before putting your socks on.
Conquerwild's Conclusion
At the end of the day, we all want our feet to feel comfortable and dry in our socks. It's a matter of hygiene, health and happiness. When looking for socks to keep your feet dry, you need something that's moisture wicking, breathable, durable and made with quality material.
I've found and reviewed some great products, but there's one pair of socks that seem to stand out from the bunch.
Our Top Pick Is…
The Silverlight Hiking Socks!!!!
Although these are the most expensive socks on this list, you really get what you pay for with Silverlight. The quality of the New Zealand Merino wool mixed with the bacteria-resistant silver yarn is unmatched by the other products on this list. They wick moisture like none other and they fit to your foot like a dream. Plus, Silverlight plants a tree for every purchase! In my opinion, Silverlight Hiking Socks are the best choice out there.